to make receipe of "rouget grondin " in  oven WE need
-         1 onion
-         4 tomats
-         some white wine
-         1 lemon
-         some thyme
-         salt and pepper.
-           olive oil .
-         and so a part of  400 gr / personne of fish.
In fist time filet your fish.
Prepare tomates cut in half piece or slice.
Prépar YOUR filet with pepper and salt thyme and some olive oil into plate.
Cooking your onion.
In  pan put tomatoes and start cooking in oven. 
When tomatoes had been half cooking time put cooking onion under and betwen tomato and put filet's fish under , continu cooking in oven.
As filet are well cooked on first side put them betwen tomato and cover with lemon slice.
At that time put some white wine into pan  to cooking other side of filet's fish. ( 15 minutes per side at 200 degres in center of oven with both grill position up and down.
That's ready see result.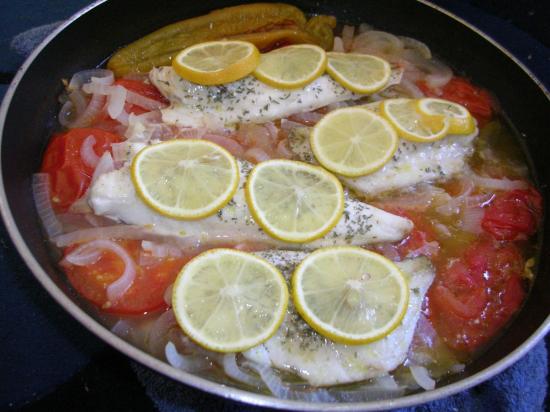 Le rouget grondin est un poisson très fin dont le gout se marie très bien avec le thym, les oignons et les tomates et le vin blanc, ne mettez surtout pas d'herbe de Provence le gout est trop fort pour ce poisson.
Le citron peu donner un léger gout amer c'est pour cela qu'il est rajouté en fin de cuisson.
Dans cette recette pour les plus observateurs j'en ai profité pour faire griller un poivron qui ne fait pas parti du plat.
Et 2 des filets sont un sar qui passe bien aussi avec cette recette.
.