To do this recipe of pike with crawfishes, we need to find:
A pike of 60 cm long (in France, legal size is 50 cm many times),
50 crawfishes per 5 persons.
1 onion
3 shallot
1 branch of celery.
thyme
perslay
dill
salt, pepper.
3 bay leaf.
1 L of white wine.
4 tomatoes
2 big carots
olive oil.
3 spoon quantity of floor from dry fish or better from crayfish.
1 garlic.
To prepare crawfish bisque.
Make cooking crawfish during 5 minutes with olive oil just to go red them.
After separe back tail .
In a big pan put thym, perslay, garlic,celery,shallot, bay leaf, 4 tomatoes, 1 carot.
Cook vegetables just time they starting to be slimy and ad 1/3 liter of white wine, some olive oil, 1/2 L of water, and put in your pan the head of your crawfishes.
Put 3 spoon quantity of fish floor.
Crushing the crawfishes head during cooking time to extract flavour, then after 20 minutes liquidize this preparating into a blender and flowing accross a sieve.
Crawfish Bisque is ready.
To prepare pike, i prefer make 2 filets whitout skin.
In a gratin pan , cut 1 carot, perslay, some thyme, 1 onion, dill, some garlic, and put my pike's filets under, drying with olive oil, ad salt and pepper.
Then submerge filets with white wine.
Put into owen 15 minutes at 200 degree and return filets to cooking the other side.
5 minute before put out your pan of owen, ad into pan crawfishes tail around filets to end cooking and warming them.
So at that time, it's possible to put bisque under filets or serving separate this sauce.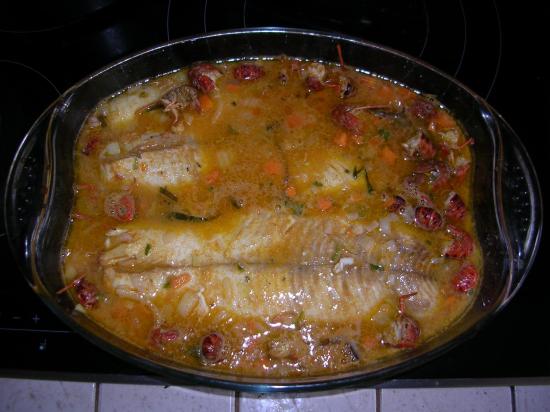 To make simple and don't wasting this precious juice with flavour of white wine and crawfishes, serve with rice, that will be perfect.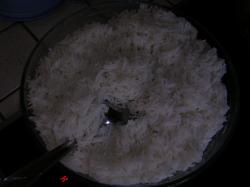 To conclued under this receipe:
The pike's filets had really better flavour like the whole pike, and dill and celery was perfect completing taste for this fish.
And so, crawfishes taste with shallot is marvellous in opposite there isn't lot's of thing to eat in crawfish's tail.
The crawfishes bisque sauce permit to keep fish part warm during all meal, don't hesite to put again some sauce if you lost too much time to open and eat crawfishes tail.
Have a nice meal !!!!