This report will just technical report cause i had forget my camera for this time.
I had a fishing party on herault river during 4 days, their is effectively big mouth bass but they are very difficult to catch, only earlest in morning period and at the end 's of  day were good times to have somes atacks.
Neither  what's we just on starting june waters were very warm, bass had let their hartchery and it possible to see somes alevins in border.
This river have a good population of bass but their is so many drowned three, water bushes of weed,  that make dificulties to find  fishes. 
Many ways from border will permit to you to fishing long this river, but some days bass's chassing occured on the opposite's side of drowned three from the border and i think that fishing from a belly boat is better solution.
I didn't discouraged me cause early in morning there was possibilities of catches in border, just fishing betwen branches and waiting a fight may be...
Atacks had occured on waki rig or texa rig mount weightless by black bass sized of 25 to 35 cms.
I was very surprise by weightless fishing cause i believe it was a boring kind of fishing  under 3 meters depth, take long time that's lure hit  bottom, so that 's really the secret of this technic cause this low moving of lure let time to fish to do their atack on a easy prey in difficulty.
Some explain about tackle.
The reels
casting a ABU GARCIA  used on 8 grs lures minimal.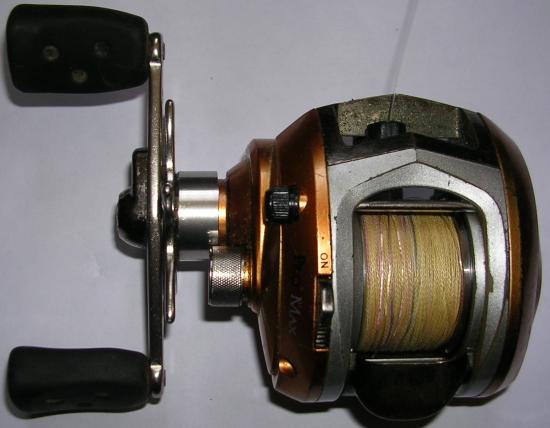 and a  spining reel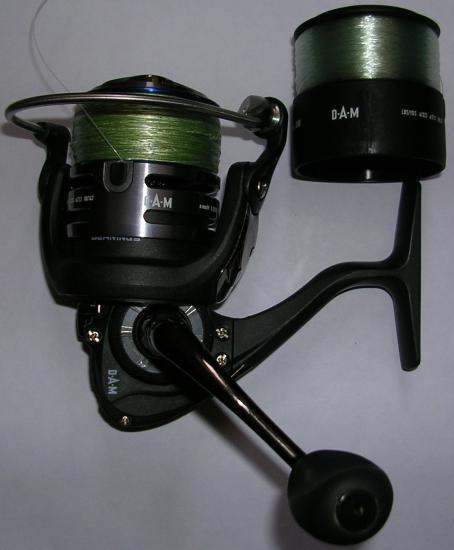 In this kind of fishing we need strong reel and my 3000 size is a little light during using with heavy lures, neither that fact 150 meters of 30/100 is perfect to worm fishing on texa rig.
The rods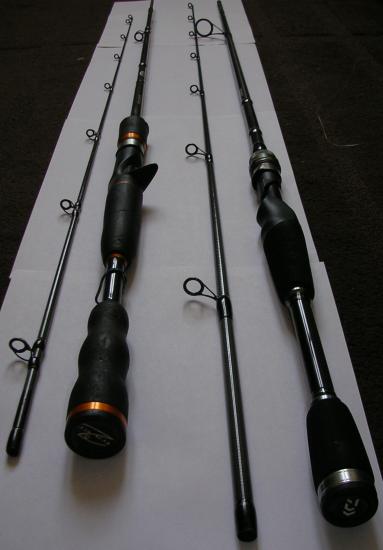 A casting rod from frazer dealer in  3/16-3/4 Oz  line 4 à 12 lbs.
Very sensitive and a monster of powerfull I can break a 26/100 line with. I buy it to fishing perch with little lures, and try casting  fishing and to conclued  it makes well both.
Just no enough power to  use with 28 gr chatter bait.
A  spinning rod from daiwa  exeler mh used on belly boat fishing 1.98 m  power 7/28 gr. 
This rod is very very powerfull it permit to extract big bass from branches without troubles with a reel break's average of 3 or 4 kgs, and that's let some power again  in blank neither that heavy break!!!!
The spinning rod was mounted with a 30/100 nylon what was perfect to fishing with weihtless grub rig or texas rig , and so it permit to throw somes little hard bait like poppers.
When i had to fishing with heavy  lures i used only casting tackle cause big hard bait or chatter bait anchored in water  can dammage spinning reel.
Don't forget your polarized glasses cause many times in bass fishing it is a at view fishing, and permit to evit branches hooking.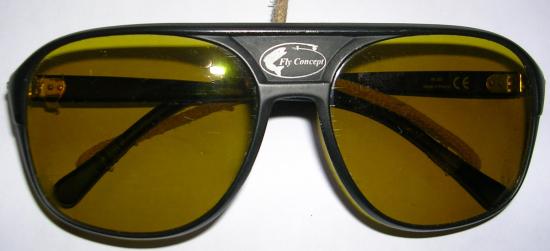 I let see you my lures special bass fishing.
 The grub, i don't found them per milions in france, it will be supple and in french market we had to well looking arround  to find one's.
In this case my soft lure just swim little on a texas rig. And it very important to not let drying your lure out of is packaging betwen 2 fishing party times!!!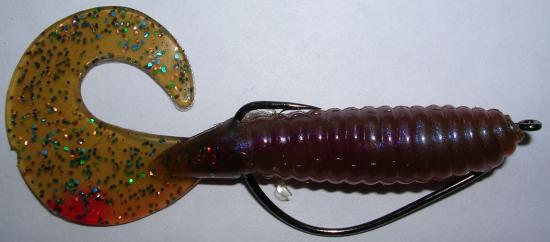 Not so supple..., i ever use it on a waki rig, and possible to use this kind of lure's mount on a drop shoot rig.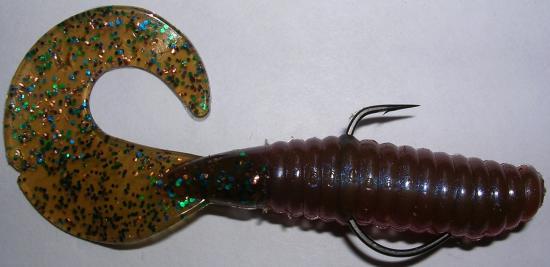 The  worms and others of a same shape.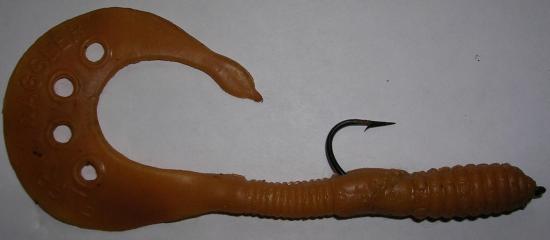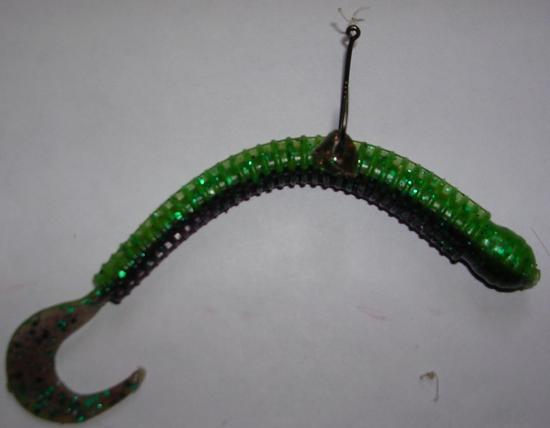 The essential  waki rig  which make you many catches but you will may lost many lures too during powerfull mouth hooking.

A mount under jig, which swim alone,and should permit to make vertical animations in place.
The  minows: likes lures with a shape of fish used like dead bait on a jig mount .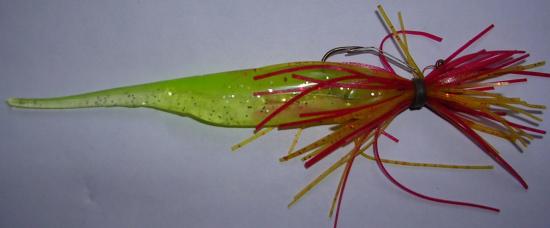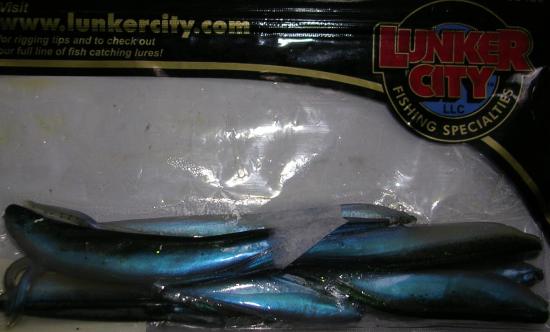 The crayfish or creatures seems like.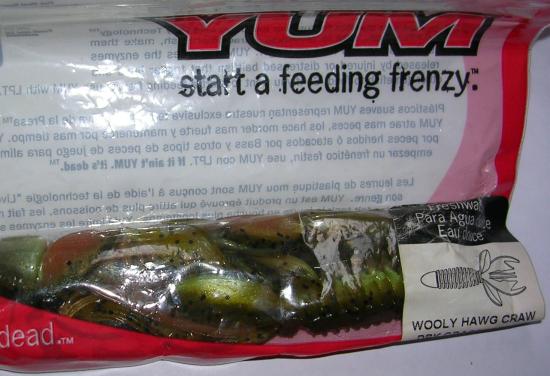 The spinner bait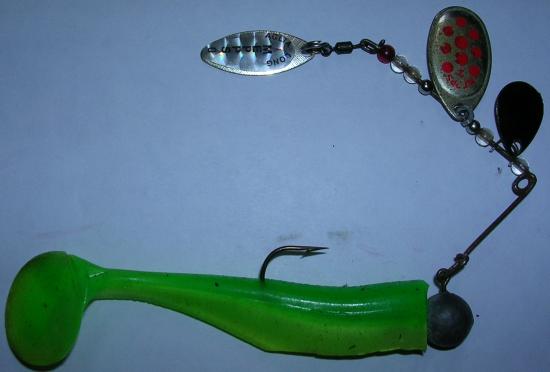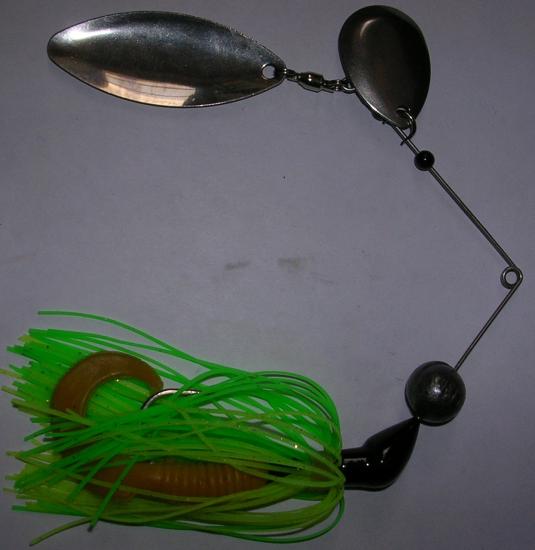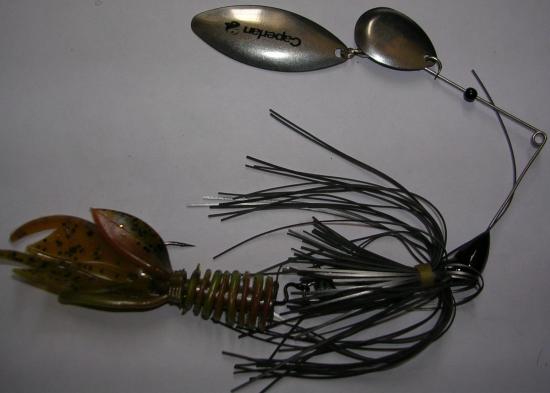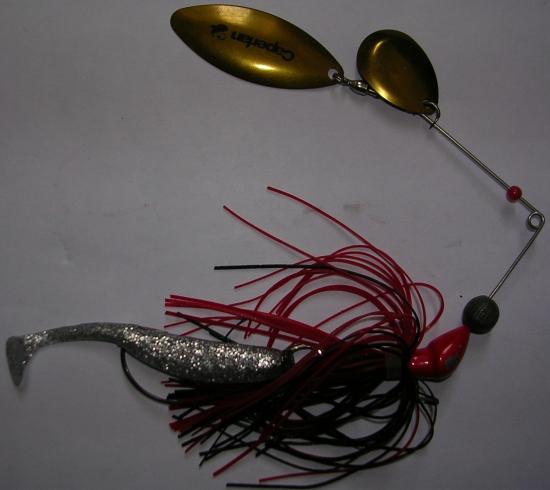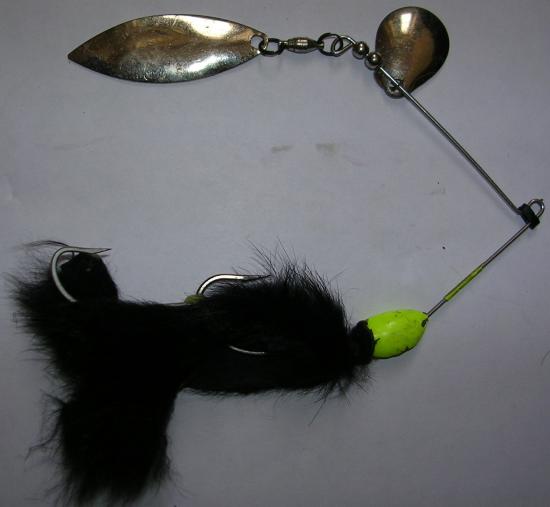 The chatter bait
A surprising lure very simple, but with heavy vibration during retreiving, it will be used like a spiner bait or a jig cause it cant make booth jobs.
It can be cast and retreiving straight or retreive by little jump on the bottom like a crawfish.
I prefer use a wire leader to rigging this lure cause with his heavy vibrations it will makes the pikes hungry.
The jigs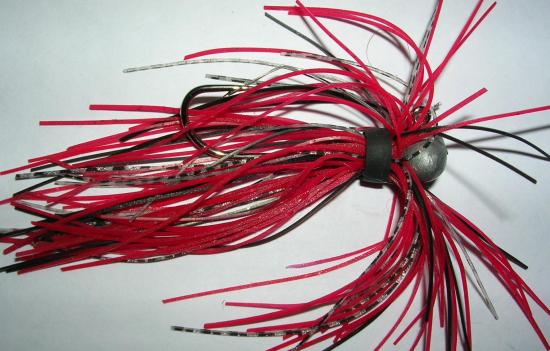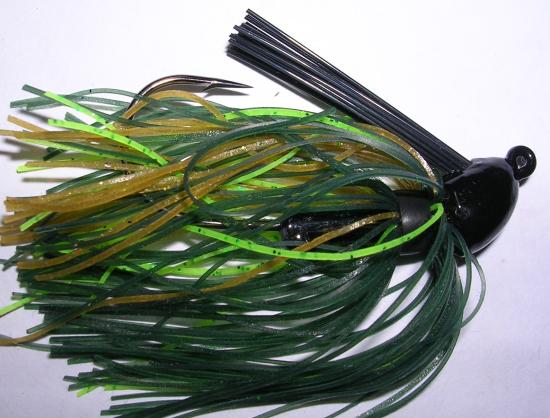 The cranks

The tops water whose can swim in walking the dog.




The poppers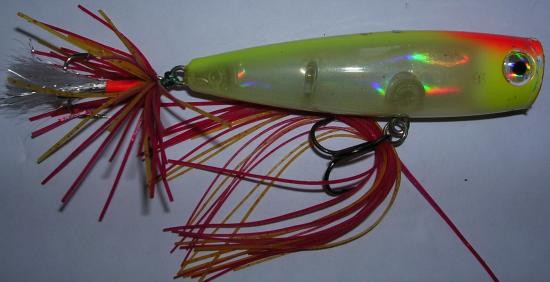 The pencil bait
Crossing betwen a soft lure and a hard bait it can swim in walking the dog with little pitching during retreiving.
It is sinking and swim at a depth of 50 cms.
That 's just a résum of how can catch big mouth bass on herault river ,to fishing bass take in case  especially the end of this river , and don't forget your carps rod their is 30 kilo fishes at the average whose i can see, 20 at 25 kilo many times (sawn each days under water with my polarized glasses) and the middle size is on average up of 10 kilos. Crazy just  i haven't think at this big population of ciprinus and be carefull 2 times carps was came attack my lures shape of worm  on 4 days fishing time.
This carp from herault river had ending their breeding season and had a rest under branches of drowned three near border.
If you want to catch carp on herault river make a rig safe and strong cause bottom have many stones and branches, so forget your feeder rig in 25/100 line it will be   losting per advance and more that's river's carp very powerfull.
Concerning carp on pole fishing technic i don't think it is a good idea cause fish are too bigger and your fishing story  will turn  certainely to broken line after broken ...
Their was too "aloses"fish  but the season was ending and stay only ten fishes ( 1 at 4 kgs) in Agde city near the sea.
If you like roach fishing , their many fish near half kilo all over this river with bream, "carassin", that's a good river to pole fishing , mulet can easy have a weight of 4 kilo for sure that really...
I just  have regrets that perch, pike and sander population was lower.
May be next time for a  pole fishing report , good by herault river.....