That's named "carp on cheese bait in Lyon town." but you will just had part of my fishing travel in Lyon town.
I had fished on Rhone river, so after a  walking travel  in north of town, i  had put my tackle near a fall on Rhone river.
If you are a part of this contry's people you will recognize place near train way witch crossing river a 800 meters far.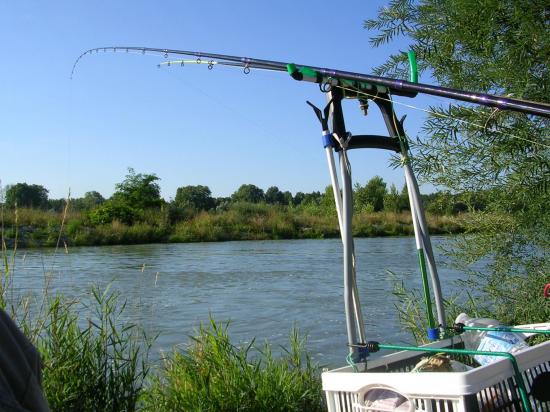 I had starting fishing by feeder fishing with just 1 rod.
You will understand this crazy end of afternoon, so 1 sinker (shape pear) under 30/100 line throwing to know the botom depht, on my first cast i had an attack really a little sander , i  made  other cast to find depht and i find a up place of sand in current, i 'm had cast 8 times ,in 4 or 6 time a cat fish attack my sinker and don't move on the botom, i had just waiting he open his mooth, average 7 cast , you will tell me fisher are  lying every time , that's not the end of story, a big sander of 3 kilo heat my sinker 3 times and rush  with  my line on 3 meters and let it really fabulous but with no hook under my line!!!!!!!!
In fact i am fishing  on forbiden area, and I shall seen writing next day, don't care about just no kill fishing.
I starting fishing by feeder and i caught 2 big barbel but after every time i missed fish.
rig:
montage feeder pour carpes et barbeaux
So i 'm  let barbels have better hooking time, and i don't really look on my rod then my cheese disapear from hook.
During retreiving my line without bait i had a attack on my 2 hooks that's a pike of 65 cm size ( no factice picture that's this pike under picture) 
.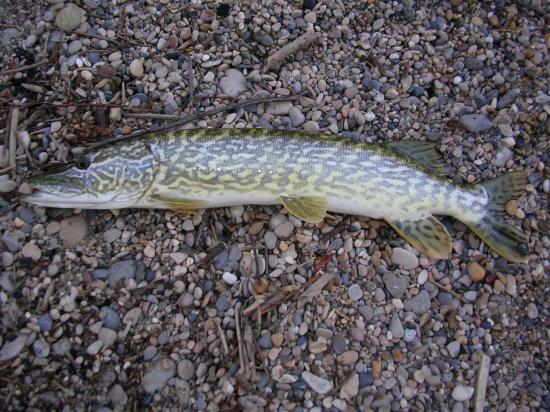 I had a good night  on gravel, but in  morning a old man tell me that's a fishing preserve area.
I change place not so far just 300 m down river, their is a arm from main river , there is certainely some fishes here.
Quickly i put 1 feeder rod + 1 surfcasting rod (120gr power) carp's rig cube of cheese, cast an 1 barbel to starting and 1 hour without bite and i had a fabulous rush their is just 2 meters depht and i caught 14 kilo's carp who's make my reel crying during 30 meters of rushing, but 10 minutes after she's done in picture.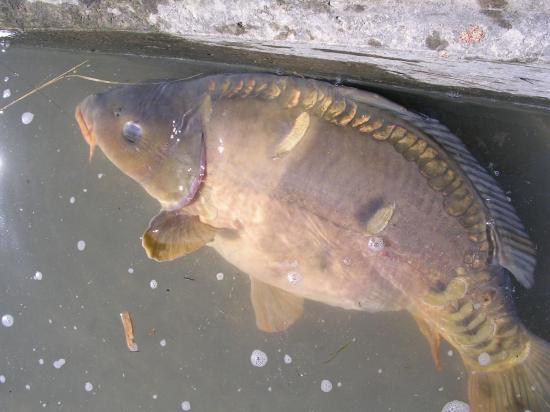 rEAL BIG FISH.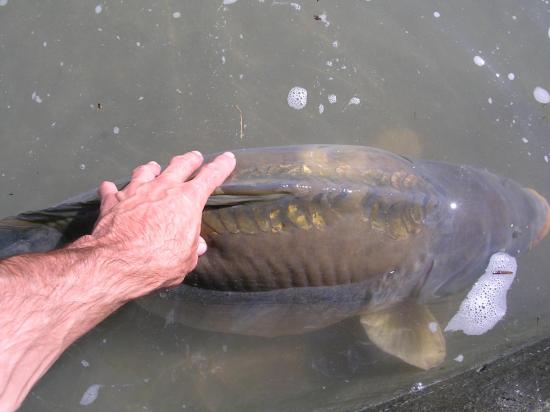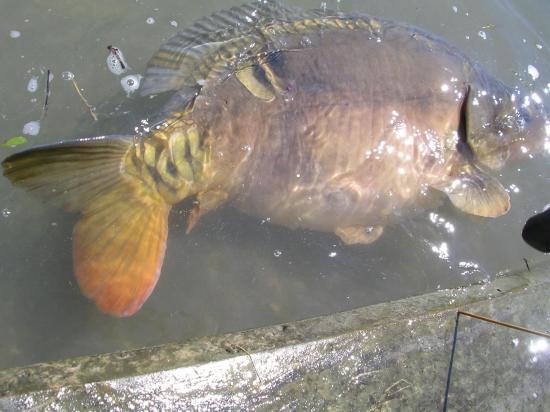 Good bye beautiful miror carp!!!!!!
After that's waiting cause my piece of cheese had been eaten but just missed fish, after one 7 kilo's catfish then a 2 kilo's catfish, the same under on picture but big one had no hooking on 2/0 size hook.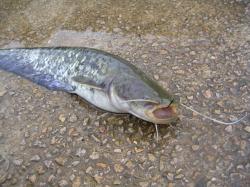 Just part of my camping travel fishing in Lyon and around with some days just bream, and many little perch some times, caught with lures, and 1 cat fish of 16 kilo weight, and 1 sander missed.....