To prepare cheese pellets :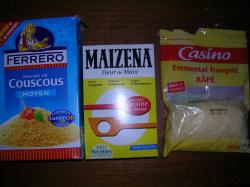 Corn floor
Blend Semoulina
Cheese 
3 eegs per 300gr
Cause soluble time of your boillies depend of eegs quantity in your paste, you can put 0 to 12 eegs / kilo but uper than 8 eegs/ kilo boilli or pelets will be hard.
 Receipe  :
 Mix all ingredient, 200 gr corn floor, 50 gr blend semolina , 100 gr mixed cheese et 3 eegs , paste will be dry if we need to  with  ad semolina
Make some plat of 0.5 mm thick.
Prépare a pan of water boille  and put plat to cook.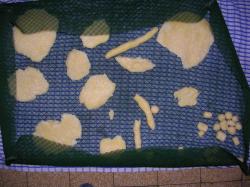 Waiting time during plate floating , and extract that to drying under plastique net.
Don't forget to make some baits  to use on hair rigs.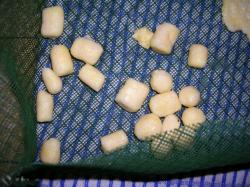 Ever dryed plates were cutted in small pieces to using in groundbaiting , carp barbel and bream really likes cheese, take care cause catfishs likes too.