I shall not telling you all my week of holidays in atlantic, but i prefer tell you the 2 better days of.
First fishing on ondres beach 20 minutes by car in the north of bayonne city .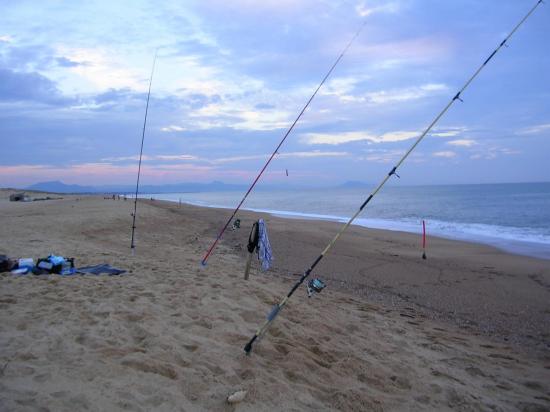 The level of sea is 80 the ocean is quiet and the sky is shiny than we hoppe, i make fishing during the flow tide's time  in the afternoon.
I had buy sea worm bait named "jumbo", and other named "arenicole " from decathlon ( sport shop) , the worm are little but i don't mind.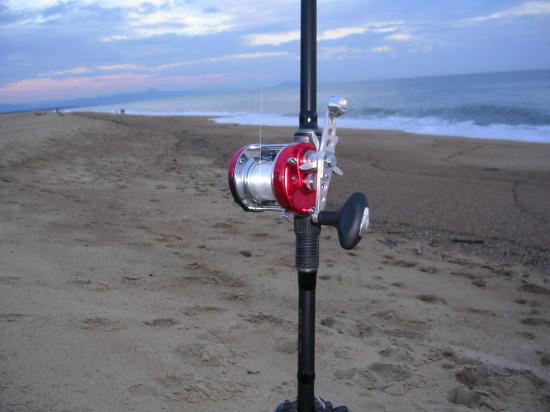 I prepare 2 rods whith sliding tips whith 2 hooks on 40/100 line, the hook are "gamakatsu" number 4, to  worm's fishing is perfect but during this fishing party the part of my hook line willl exchange by 35/100 line to catch more difficult little fish not had the choise.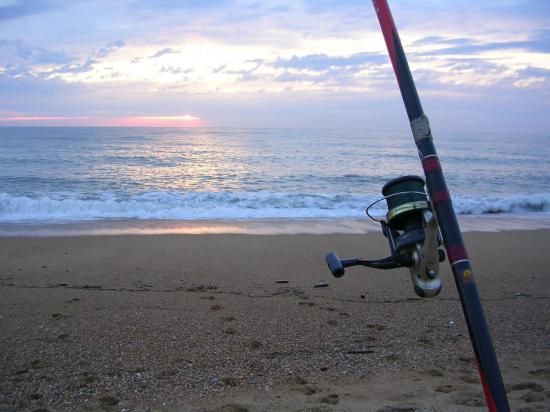 Surf casting sliding tip used:
click on

Montage surf casting coulissant 2 avancons (31 Ko)
On my first cast one "vive" and  after some "sars" ( names of fish " ")
When the tide starting to flow many touch of fish had been occure.
Sars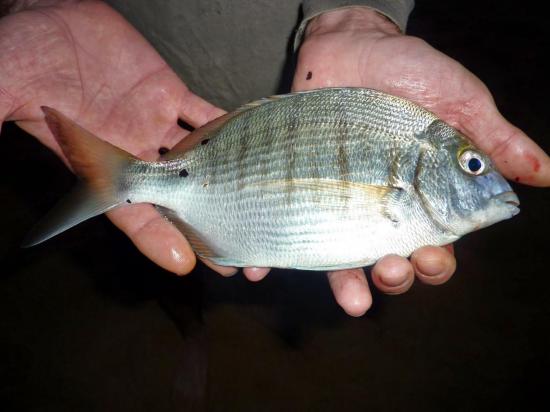 "Ombrines", I had even  a double hoocking fishes on my rig !!!!
Sea bass spoited , little !!,but during   time's of dark moon so happy to had one hoocking.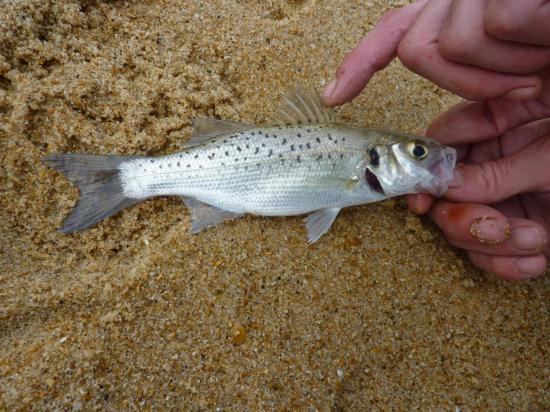 Sea bass,  the little are even in the first wawes.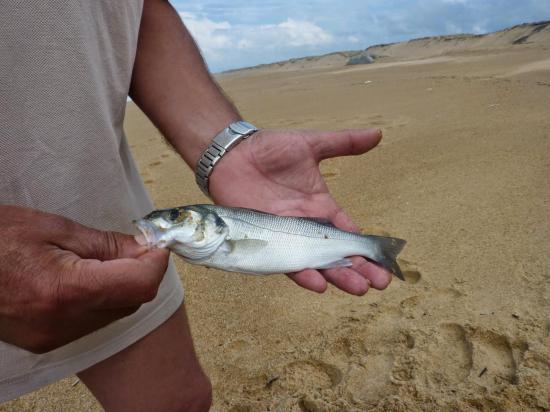 Realy a good afternoon whith 3 "sars" 3 "ombrines" 2 "vives" 3 seabass 1 spoited seabass 
After the 4th hour of growing sea time less touchs occured.
Don't  forget your meal !!!!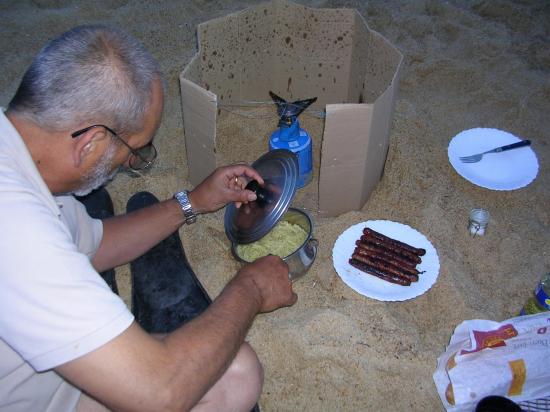 For the second  best fishing part, it's ever a fishing party on the same beach, don't think it 's easy on this place the beach is very downing and the fisher is not really well in place to make his cast and it's not even possible too have long cast.
On that time we  shall returned back at home (Marseille) but i had ever 25 sea worm, i ll not put them in bin, i 'll make the last fishing party during low tide   of  morning.
Whith 3 rods and ever the same slidding tips, little sea level just 45, same dark moon and same beautiful weather.
I m starting catches by a "sar", after "1 ombrine", and in last time 1 "rouget grondin" of good size 31 cm, and 2 "sars" on last retreiving.
That were all really good holidays and two new species of fish for my fishing basket  "ombrines" and "rouget grondin". 
I has ever do a fishing party whith slidding float on Tarnos sea wall's place with shrinps and 1 night under rain on the same place under beach.
I has called this two fishing party :"fishing for somes "ombrines" and one "sar"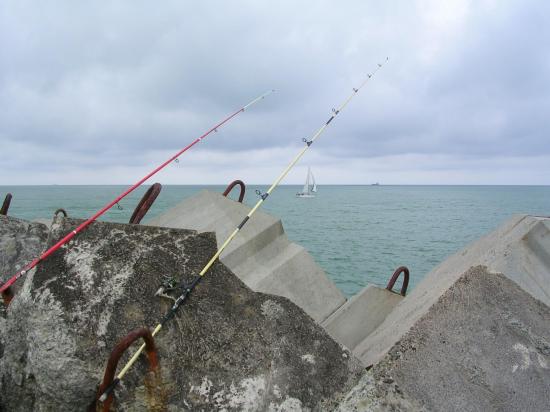 sea wall of TARNOS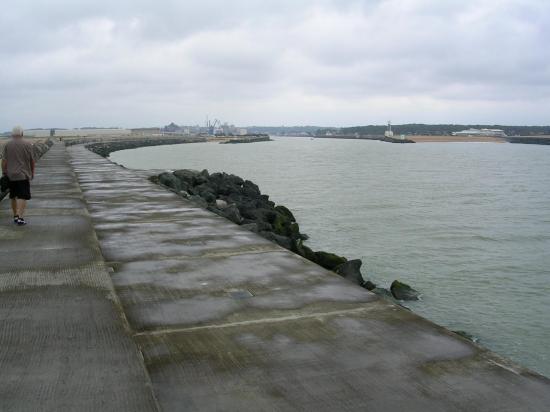 Sea wall of Tarnos and view of adour river trowing in the atlantic.
fISHING WHITH "5 FLIES TO MAQUEREL FISHING + SPOON  " ON saint jean de luz  CITY during flow tide period to catch in  résult just one "chinchard", I HAD some EXCUSEs CAUSE THE RIVER which trowing in sea is brown from a rainny night time..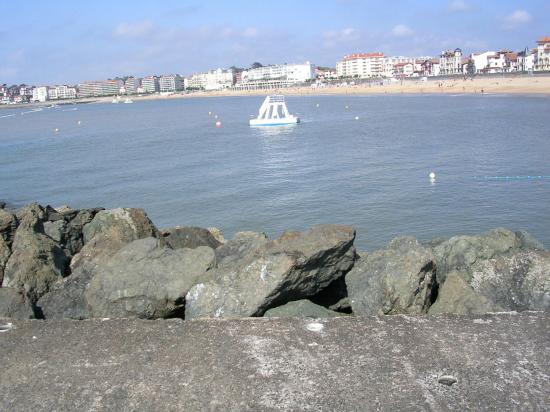 On beach during rain don't forget your camp and "cassoulet"( bean whith duck meat cooking in grease)  it 's possible to  it will make you well better.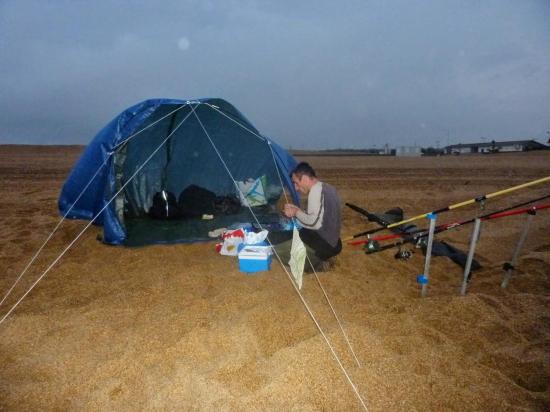 Beach of tarnos . 
No "maigre" , no sharck, no ray, no well sized sea bass on this time but many dreams of beach made on  sand and their mysteries from atlantic sea