If you should have  nice  fishing night from shore or from a boat, this specie of fish is for you.
This kind of fish  willn't make you problèmes to be caught, it will hoock himsellf most of time and get the bait long time into mouth!!!!!!!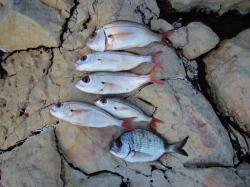 The best period to go fishing, is full moon on a low tide's time. The flow of low tide will  starting betwen 22h and 23 h, the fishing party will may being a good period during all time of low tide.
If you don't know where found the table tide for your city, there is a web site which give you free, his name is SHOM ( SERVICE HYDROGRAPHIQUE ET OCEANOGRAPHIQUE DE LA MARINE )
To see draw about tip click on link under
doc1-beau-yeux-w.doc